4 - AEROMOUSE v1: WAVE PIONEER
The first version of AeroMouse, Wave Pioneer, is here; ready to use. It introduces the
Wave
environment, where the hand moves like a wave in the sea.
The v1 Control Panel replaces the left, central and right mouse clicks with corresponding wave movements... so relaxing! I work always with it for my ordinary tasks, and without it I feel that something is missing.
Wave Pioneer works quite well, but it needs a fine tuning (to avoid a few cases of confusion) and a graphic improvement (currently the aesthetic is a little elementary).
The next version, v2, will apply these points.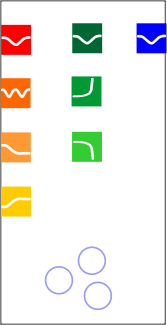 >>> The AeroFace Card
AeroMouse is a Software and a Community.
With the Software you can work at pc without click; with the Community you can take active part in the development of the next versions of AeroMouse.
Software and Community will work if you have a valid
AeroFace Card
pass in your computer.
You can buy a Card in the
Store
.
<<< Previous
>>> Next